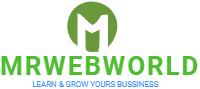 Our Website Is   
https://mrwebworld.com
Our Mission
MRWEBWORLD is an all-in-one Online solution that helps small- and medium-sized businesses build and manage successful online stores.
Partnering with Online Businesses to Boost Success
Serving Businesses of All Shapes & Sizes
Our customers are a mixture of individuals and organizations with dreams of managing successful online businesses.
A Mission to Accelerate Success
Our core focus is building fast, flexible, and reliable digital commerce. We are committed to providing tools and services that empower SMBs to rapidly and efficiently gain awareness, drive revenue, and manage all aspects of digital commerce. We achieve this by cultivating a team of adaptable, collaborative, effective, founder-focused, humble, and transparent experts who focus on solving for the customer.
We will provide to You access to those Services to which You subscribe or that You purchase through Your Account (the "Purchased Services"). The Purchased Services shall include hosting of Your Sites and Your Content for access by visitors and users of Your Sites ("Your End Users").
Some of Our Services are offered through plans. The fees for each plan, and their applicable terms and limits, are described on Our website. Certain plans may have limitations, and We reserve the right to charge an overage fee for exceeding such limitations at then current list prices, or to automatically move You to a plan with limits that exceed Your usage.
We reserve the right to quarantine one or more of Your Sites, throttle traffic or invoke other necessary techniques to protect Our other customers. Any such move will last as long as We deem necessary to protect Our other customers, and will not include any additional support. If any of Your Sites is the target of a DDoS or other attack, You consent to Us performing mitigation procedures with or without notice to You and without liability for any delay, disruption or interruption of service. These techniques will remain in place until Your Site experiences at least 48 hours of continuous non-malicious, "normal" traffic.
We will update and modify Our Services from time to time. We will not be responsible for the effect an update has on any code that is not provided by Us. Any modifications to such code necessary to restore functionality to Your Site shall be Your sole responsibility.
The servers used to provide the Services are physically located in the United States of America and, as a result, all content will be subject to the laws thereof.
Technical support is only provided to paying Account holders and is only available to the extent specifically provided for the plan purchased.
As a condition of Your use of the Purchased Services, You acknowledge and agree We may provide Your personal information to Our partners.
We reserve the right to provide the Services to Your competitors and make no promise of exclusivity in any particular market segment. You further acknowledge and agree that Our employees and contractors may also be Our customers, and that they may compete with You, although they may not use Your confidential information in doing so.
We reserve the right to refuse, modify, or suspend all or any part of Our Services to anyone for any reason, at any time and without notice. While assuming no obligation to do so, We may remove Materials and suspend or terminate Accounts or Agreements if we determine, in our sole discretion, that either the goods or services offered via a store, or the Materials uploaded or posted to a store, violate Our Acceptable Use Policy ("AUP") or these Terms of Service. MRWEBWORLD does not, and takes no obligation, to pre-screen any goods, services, or materials uploaded or posted to a store.
Verbal or written abuse of any kind (including threats of abuse or retribution) of any Volusion customer, MRWEBWORLD employee, member, or officer can, at Our sole discretion, result in immediate Account suspension or termination.
These Terms of Service, along with Our and the other terms and policies referenced herein, is an agreement (the "Agreement") between You ("Customer", "You", or "Your") and MRWEBWORLD, LLC, a Delaware limited liability company ("MRWEBWORLD", "We", "Us" or "Our"). This Agreement sets forth the terms and conditions of Your use of the  website and the platform, applications, tools, templates and other products and services provided by or through Us (collectively, the "Services"). You may use the Services to create or publish websites and online stores and access other ecommerce services ("Your Sites").
If the person entering into this Agreement is acting on behalf of an entity, all references to "Customer", "You" and "Your" shall refer to such entity and such person represents that it has the ®authority to bind such entity to this Agreement. For individuals, the Services are available only to those who are at least eighteen (18) years of age and recognized as being able to form legally binding contracts under applicable law.
By using or accessing Our Services, You are agreeing to this Agreement and that any previous agreements between You and Us with respect to the Services are superseded by this Agreement. We may change or modify this Agreement at any time at Our discretion. Any such changes or modifications shall be effective immediately upon the earlier of (i) Our email notification to You advising You of such changes or modifications, (ii) Your electronic acceptance of the revised Agreement after such changes or modifications have been made as indicated by the "Last Revised" date at the top of this page, or (iii) Your continued use of the Services after We post the amended Agreement to this website.
Throughout these Terms of Service, We sometimes provide summaries to the right to assist You in Your review and understanding of these terms. These summaries are not binding and are not part of this Agreement. Please make sure You read and understand the entire Agreement before using Our Services.
Account; Point of Contact; Account Ownership
You must register for an account (the "Account") to access and use the Services by providing your full legal name, current address, phone number, a valid email address and certain other information indicated as required. You agree that all such information is current and accurate. We will use the email address that You provide as the primary method of communication, including for billing matters. We may reject Your application for an Account for any reason, in Our sole discretion.
You shall designate a single "Point of Contact", which shall have full authority to enter into agreements and make binding decisions on Your behalf. For security reasons, only the Account owner or Point of Contact designated by the Account owner will be allowed to make account changes or cancellations or to designate a new Point of Contact. You agree that We may rely on representations made by Your Point of Contact. You may change Your Point of Contact at any time. If there is reasonable doubt about the authenticity of any instruction, notice, document or communication, We reserve the right to require additional authentication from You.
You must keep Your password secure. We encourage You to use best practices in creating, regularly changing and securing Your password. We will not be liable for any loss or damage from Your failure to maintain the security of Your Account or Your password. You agree to immediately notify Us of any unauthorized use of Your password or any similar breach of security.
In the event of a dispute regarding Account ownership, We reserve the right to request documentation to determine or confirm Account ownership. Documentation may include a copy of Your business license or charter, government issued photo ID, the last four digits of the credit card on file, etc. We retain the right to determine, in Our sole judgment, rightful Account ownership and transfer an Account to the rightful owner. If We are unable to reasonably determine the rightful owner of an Account, We reserve the right to temporarily disable an Account until resolution has been determined between the disputing parties.
 Smart Financial Decisions Made Simple
MRWEBWORLD Advisor is dedicated to helping you turn your aspirations into reality. We do this by providing you with the knowledge and research you need to make informed financial decisions you can feel confident in, so you can get back to doing the things you care about most.
This mission is not something we take lightly. We promise to keep you current on how the world around us impacts your bottom line and to arm you with clear, impartial, practical advice you can trust, so making decisions about your money feels simple and smart, not stressful.
Your Obligations and Restrictions
We may suspend the Purchased Services to You with or without notice and without liability if: (a) We reasonably believe that You are using the Services in violation of the Agreement; (b) You don't cooperate with Our reasonable investigation of any suspected violation of the Agreement; (c) there is an attack on Your Sites or Your Sites are accessed or manipulated by a third party without Your consent, (d) We are required by law, or a regulatory or government body, to suspend Your Services; or (e) there is another event for which We reasonably believe that the suspension of Services is necessary to protect Our other customers. We will use commercially reasonable efforts to give You advance notice of any such suspension unless We determine that a suspension on shorter notice or without notice is necessary to protect Us or Our other customers from imminent risk.
You shall not use the Service in any way that shall impair the functioning or operation of Our Services or equipment. You further agree not to use the Services to:

disseminate or transmit content that is spam, including content that is machine- or randomly-generated and/or contains unethical or unwanted commercial content designed to drive traffic to third party sites or boost the search engine rankings of third party sites, or to further unlawful acts (such as phishing), or mislead recipients as to the source of the material (such as spoofing);
disseminate or transmit unsolicited messages, chain letters, unsolicited commercial email, or unreasonably large volumes of email on a daily basis;
disseminate or transmit files, graphics, software or other material, data or work that actually or potentially infringes the copyright, trademark, patent, trade secret or other intellectual property right of any person;
collect or harvest any personally identifiable information;
export, re-export or permit downloading of any message or content in violation of any export or import law, regulation or restriction of the United States and its agencies or authorities, or without all required approvals, licenses and/or exemptions; or
disseminate or transmit any virus, trojan horse or other malicious, harmful or disabling data, work, code or program.

You may not (i) access the Services through automated means, including, without limitation, through "robots", "spiders" or "offline readers" (ii) use Our servers or Your Sites as a source, intermediary, reply to address, or destination address for mail bombs, Internet packet flooding, packet corruption, denial of service, or other abusive activities, (iii) use Your Sites as an anonymous gateway, (iv) run a public recursive DNS service on any of Our servers, (v) use Our Service as a storage device or to store any data or content that is not reasonably related to the use, operation or maintenance of Your Site, or (v) use software or scripts run on Our servers that cause the server to load beyond a reasonable level. Notwithstanding the foregoing, We grant the operators of public search engines permission to use spiders to copy materials from the site for the sole purpose of and solely to the extent necessary for creating publicly available searchable indices of the materials, but not caches or archives of such materials. We reserve the right to revoke these exceptions either generally or in specific cases.
You may not use the Service for any illegal or unauthorized purpose nor may You, in the use of the Service, violate any laws in Your jurisdiction (including but not limited to copyright, trademark, or patent laws), the laws applicable to You in Your customer's jurisdiction, or the laws of the United States of America. You will comply with all applicable laws, rules and regulations in Your use of the Service.
You shall not purchase search engine or other pay per click keywords (such as Google AdWords), or domain names that use Volusion or Volusion trademarks and/or variations and misspellings thereof.
Our acceptance of You as a customer should not be interpreted as, and is not, any advice, opinion, endorsement, or approval on Our part as to the legality of Your products, services, content or intended use of the Service. You are and remain solely responsible to ensure that Your products, services, content, and intended use of the Service is at all times compliant with any and all laws, regulations, and rules applicable thereto, including but not limited to privacy and data laws, accessibility laws and trademark/copyright laws, regardless of the jurisdiction, including, but not limited to, all jurisdictions, countries, states, cities, or other boundaries within which You operate. You should refer to Our AUP for further restrictions, clarifications, and details.
You agree that We have the right to carry out a forensic examination in the event of a compromise to Your Sites or Your Account.
From time to time Your Site may be subject to an event expected to cause a significant spike in traffic, such as appearance on a nationally syndicated television show or substantially advertised promotion. We encourage You to provide advanced notice of such planned events to Us so that We can create a response plan to minimize the effect on Your Sites.
You shall bear full risk of loss and damage to Your Sites and Your Account and agree that You are solely responsible for all acts, omissions and use under and charges incurred with Your Account or password or in connection with Your Sites.
You understand and agree that Your Sites and Your End Users are Your responsibility, and You are solely responsible for compliance with any and all applicable laws or regulations related to Your Sites and Your End Users including but not limited to privacy and data laws, accessibility laws and trademark/copyright laws. This includes, without limitation, Your Sites, the content thereon, and design thereof. You agree to comply with all applicable domestic and international laws and regulations regarding Your use of the Services. You agree to post a privacy policy on Your Sites that complies with the laws applicable to Your business. You also agree to obtain consent from Your customers for the use and access of their personal information by Us and other third parties. We are not liable for, and won't provide You with any legal advice regarding, Your Sites, the content thereon, design thereof, or Your End Users.
Our Services allow You and Your End Users to upload, post, transmit, publish, share, store, or manage content, including, data, graphics, links, photos, music, sound, messages, videos and other materials (altogether, "Your Content"). You are solely responsible for any and all of Your Content. You represent and warrant that (i) You have all necessary rights to distribute Your Content via Our Services and (ii) Your Content does not violate the rights of any third party. You hereby grant Us a worldwide, royalty-free, non-exclusive license to host and use Your Content in order to provide the Services to You. You are responsible for undertaking necessary measures to ensure the security, confidentiality and integrity of all Your Content transmitted through or stored on Our servers. You are responsible for any of Your Content that may be lost or unrecoverable through Your use of the Services.
Our servers are not an archive and We shall have no liability to You or any other person for loss, damage or destruction of any of Your Sites or Your Content. You are solely responsible for the backup of Your Sites and Your Content. You are encouraged to archive Your Content regularly and frequently.
We do not pre-screen Your Content and We shall have no duty or obligation to monitor Your Content or any other content provided or distributed by others. However, We may at any time, without notice or liability to You, remove from public view, disconnect, or terminate the hosting of any of Your Content which We deem in Our sole discretion (i) violates the terms of this Agreement, including Our Acceptable Use Policy, (ii) violates any third party's intellectual property, or (iii) is otherwise objectionable.
We will not intentionally disclose Your confidential information to third parties, except as required in the course of providing Our Services or as otherwise described in this Agreement or Our Privacy Policy. Confidential information includes any materials or information provided by You to Us that is not publicly known ("Your Confidential Information"). Your Confidential information does not include information that: (a) was in the public domain at the time We received it; (b) comes into the public domain after We received it through no fault of ours; (c) We received from someone other than You without breach of Our or their confidentiality obligations; or (d) We are required by law to disclose.
In order to permit Us to protect the quality of Our Services, You hereby consent to Our staff accessing Your Account, Your Sites and Your Content from time to time to investigate complaints or other allegations or abuse and to otherwise perform the Services set forth herein.
You understand that Your Content, other than credit card information or data, may be transferred unencrypted over various networks and may be modified to the extent necessary to conform and adapt to technical requirements of connecting networks or devices. Credit card information or data, however, is always encrypted during transfer to or by Us.
We claim no ownership or intellectual property rights in Your Content.
Third Party Sites and Services
Our websites may contain links to other websites owned by third parties ("Third Party Sites"), and when you click on any of these links, you are entering another website. You may also have the ability through Our Service or through Applications to access Your accounts for services provided by third parties or to link accounts for Third Party Services to Your Account (collectively, "Third Party Services").
We make no representation or warranty regarding any Third Party Site or Third Party Service, including their compatibility with Our Services. You agree that We shall not be responsible for any loss or damage incurred as a result of Your use of any Third Party Sites and/or Third Party Services, whether or not You were linked to or directed to a Third Party Site or Third Party Service through Our Service. You acknowledge that Third Party Sites and Third Party Services may be subject to the applicable third party provider's terms of service, and you are solely responsible for reviewing and complying with any such terms of service. In no event shall any reference on Our website to any third party, third party website or third party product or service be construed as an approval or endorsement by Us.
Some of Our Services may require You to give us access to or require you to provide login information and password information for Third Party Services. When You provide this information to us or give us access to these third party accounts, You agree that You have all the necessary contractual and legal rights to give Us such access, login information.
We strongly recommend that You seek specialist advice before using or relying on certain tools. In particular, tax calculators should be used for reference only and not as a substitute for independent tax advice when assessing the correct tax rates You should charge Your End Users.